Kent Lemasters ­ President / Chief Executive Officer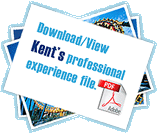 Mr. Lemasters has 30 plus years experience in the theme, amusement, waterpark and family entertainment business including 15 years as Vice President / General Manager of one of the most successful water amusement parks in the world, Raging Waters, San Dimas (Los Angeles), California, one of America's premier water theme parks. Under Mr. Lemasters' leadership, the park grew from a start up 300,000 attendance operations to a 50 acre park with annual attendance of over 749,000. Prior to Raging Waters, Mr. Lemasters was Vice President / General Manager at Calaway Park, Calgary, Alberta, a major regional amusement park and western Canada's 1st major theme park.
Mr. Lemasters began his career in the family entertainment theme park business as a management team member of the highly successful Silver Dollar City (Herschend Family Enterprises) regional family theme park in Branson, Missouri. He was also on the Start-up management team for Dollywood, a Silver Dollar City owned theme park project in Pigeon Forge, Tennessee. He was Director of Marketing and Sales with annual attendance growth to over over 2.0 million.
Mr. Lemasters has had bottom-line responsibilities in all areas of the park business including planning, financial, development, operation and marketing of a variety of theme, amusement and water parks. He resigned his position in January, 2000 as Vice President of Ogden Entertainment, California Parks where he was responsible for overall management of Ogden's most recent California acquisitions, Raging Waters, San Dimas, California and Castle Park, Riverside, California, a 30 ride amusement park and family entertainment center. Under Mr. Lemasters' leadership, the parks grew to 1,200,000 attendance and 1,000 employees.